Part of the Communities We Serve
B3SL is committed to giving back through charitable donations to community organizations and institutions such as the Boys & Girls' Clubs, Children's Hospital of Los Angeles, City of Hope, the Make-A-Wish Foundation, Meals on Wheels, and People Assisting the Homeless (PATH).
Additionally, our office takes on a number of select pro bono cases each year.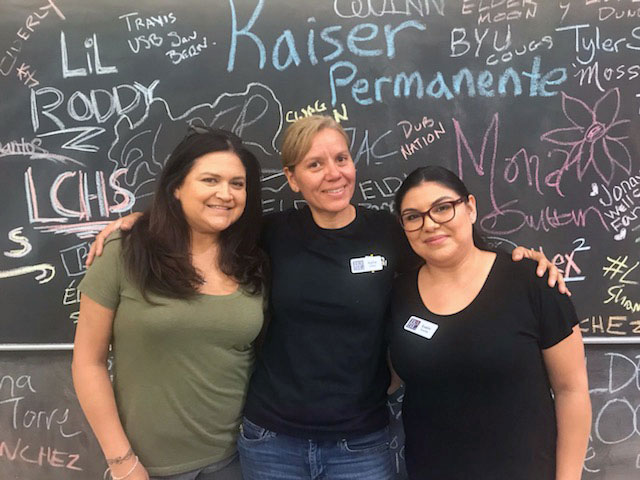 Volunteering with B3SL
Angela Flores; Agina Sedler; Evelin Duenas
Our firm offers employees the opportunity to volunteer on behalf of the firm so recently our staff members chose to commit their time and energy to volunteering with the Riverside County Food Bank. On June 28, 2018, we (Evelin Duenas, Angela Flores, and Agina Sedler), staff members from the firm's Riverside office, represented the firm by volunteering for a few hours. We quickly learned there was a lot more to the Food Bank than handing out free food to the community.
Riverside Food Bank is one of the nation's busiest food banks. The Food Bank provides much more to the community than just food. They also collect school supplies and clothes and distribute them to local schools and children in need; they collect pet items, like food, chew toys, and pet-care products. Many in the homeless population tend to have pets, and the Food Bank helps them care for their companions.
When we first arrived at the Food Bank we got a tour of the facility. We visited the huge, commercial-grade refrigeration systems they have which were donated by the San Manuel Indian Casino. We had an opportunity to sign a wall with all volunteers throughout the community. We were then shown the main floor where dried foods and goods are sorted and packaged for distribution. The Food Bank is extremely organized, and they are very careful to meet strict food handling guidelines/codes. We formed an assembly line and sorted dried goods and food items. Once sorted, the boxes are weighed, logged and stored in a huge warehouse. This makes it easier for the regular staff members of the Food Bank to pull orders they fill to assist local churches, schools and day-care facilities in the community. The warehouse was about the size of a Costco store! They even have an online ordering system!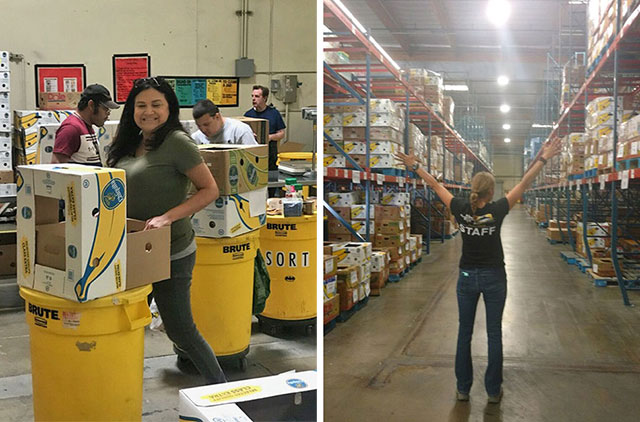 Here are some of the statistics we learned while volunteering:
• 425,000 people are fed by the Food Bank each month
• They also provide hot meals to some members of the community
• The Food Bank is actually part of a national chain called Feeding America
• There are over 209 locations
• Every dollar donated to the Food Bank provides 9 meals!
• They receive 1500 pounds of student supplies each month for distribution
• Even rotten or spoiled perishables are used, sent to local farms to be composted – nothing is wasted!
Some of the organizations that benefit from the Riverside Food Bank are:
• Cal Baptist University
• Cal State San Bernardino
• Riverside Community College
• Local homeless shelters
• Local child daycare centers
• Local drug/alcohol recovery centers
Some of the major donors to our local Riverside Food Bank include:
• Ralph's
• Stater Brothers
• Winco
• San Manuel Indian Casino

Volunteering was fun and easy. It was really great to see first-hand how our local food bank is making such a positive impact on our community. At the end of the day, we all left with a commitment to return to the Food Bank and volunteer on our own time. Each month we will have different groups of the firm's staff members volunteer with the Food Bank and hopefully have the same experience we did! It was really an honor to represent the community on behalf of our firm.