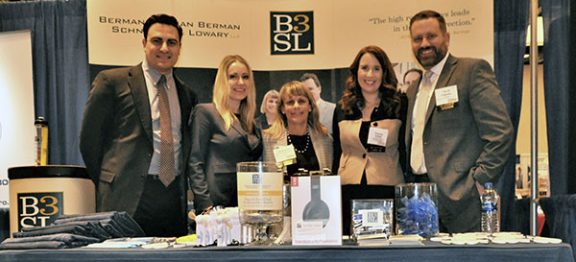 The Combined Claims Conference (CCC) has emerged as one of the largest and most diverse educational conferences in the industry. For 30 years now, it has brought together top claim professionals from insurance companies, brokerages and agencies — along with service providers — from throughout the Western U.S.
The most recent edition of the conference took place March 6-7 in Anaheim, California, and Berman, Berman, Berman, Schneider & Lowary LLP (B3SL) — through a well-visited booth and its role as a Level 1 "Platinum" sponsor — was once again an active participant.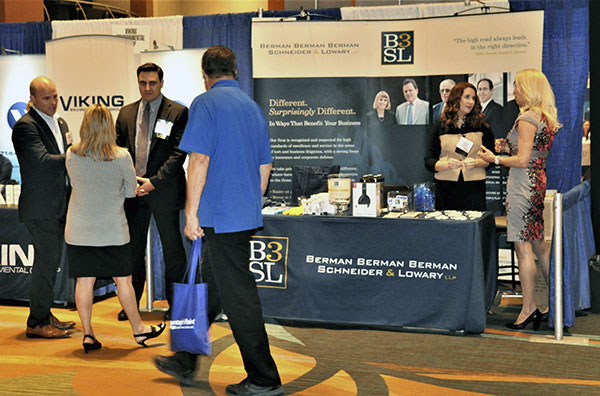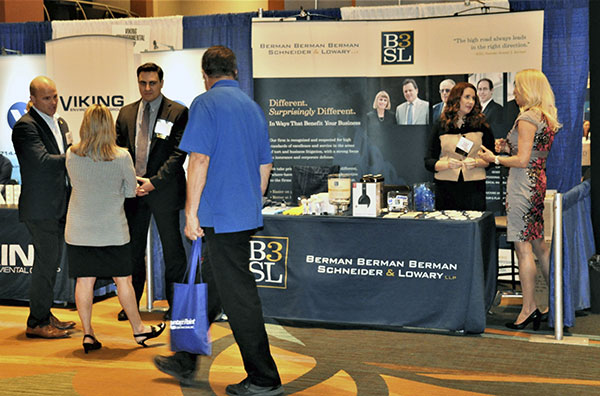 "The CCC has come to play a major role in our marketing and promotional efforts," reports Los Angeles-based B3SL partner Stephanie Berman Schneider, who was one of five firm attorneys staffing one of the event's most popular booths at the recent event. She was joined by Victoria Tsylina and Ardye Zamani, also from the Los Angeles office, and David Casady and Amanda Griffith from Sacramento.
David, also a B3SL partner, has represented the firm at a number of similar events. "I love the chance to connect with clients and other claims professionals at these conferences," he explains. "As a former claims adjuster myself, I appreciate the opportunity to not only reconnect with our colleagues in claims, but also to discuss the current trends, challenges, and other issues they face on a daily basis."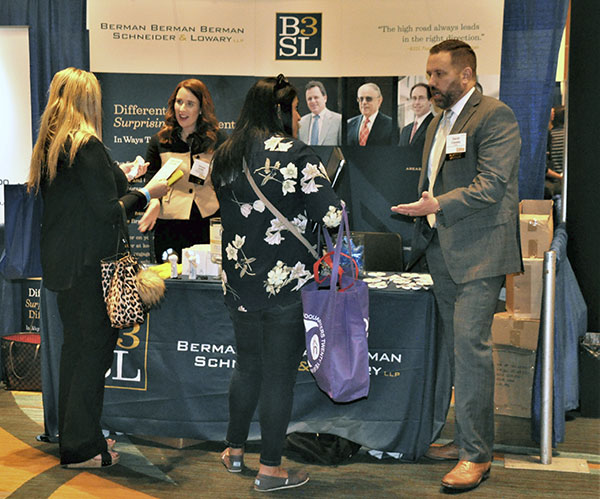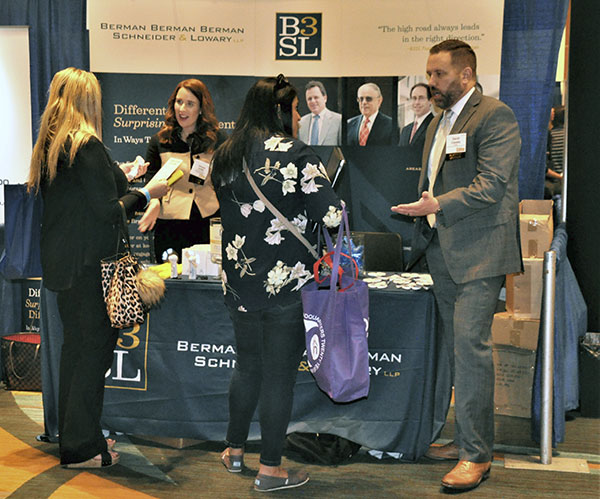 Adds his Sacramento colleague Amanda, "It's always good to be able to see people face-to-face, rather than over the phone or through e-mail. It's also valuable to see what's out there — different technologies, for example. And it's great for the people attending the conference to meet us — to learn what we can do when they have needs we can fulfill."
For Victoria, the conference offered "the chance to walk around to see what others are doing and a great networking opportunity. The hope is that the people who stop by our booth will remember who we are when the time comes for them to need the services we can provide."
The popularity of the B3SL booth was enhanced by a wide array of promotional giveaways, including golf towels, personal fans, scissors, giant felt-tip markers, light-up keychains, and water bottles, all emblazoned with B3SL identity. The grand prize in a drawing for visitors who left their business card was a pair of high-quality Beats headphones.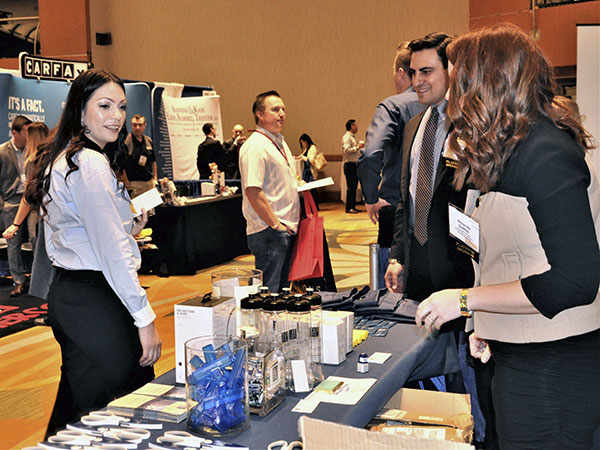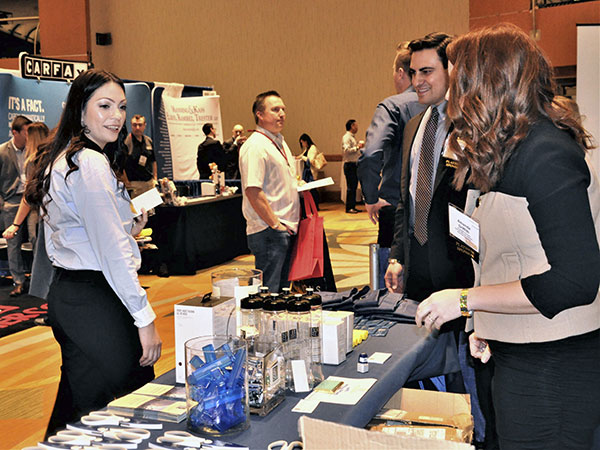 The giveaways helped attract conference attendees like Mari Béas, a Senior CGL Adjuster for the Hanover Insurance Group. "It's a real value for me to learn about new vendors, what they have to offer," says Mari. "So when I'm handling a claims investigation, I'll be able to choose from an array of vendors to best suit my needs. It also helps assist with defense counsel when doing the litigation aspects of a claim."
It should be noted that B3SL was not one of the "new vendors" Mari met at the conference. "I do premises liability," she explains, "and I've been working with the Berman firm for a long time – brought them aboard back when I was working for Superior Grocers. They've been doing great work for our Sacramento and Santa Ana offices."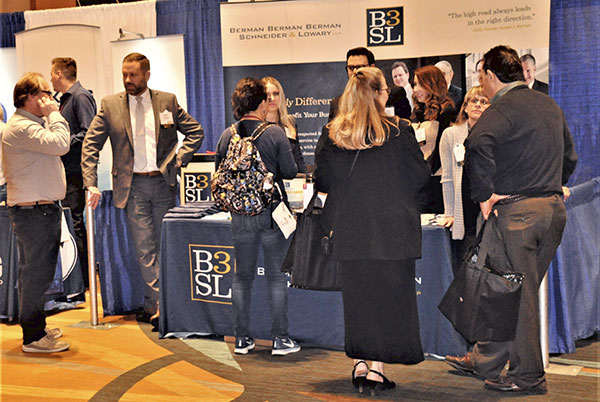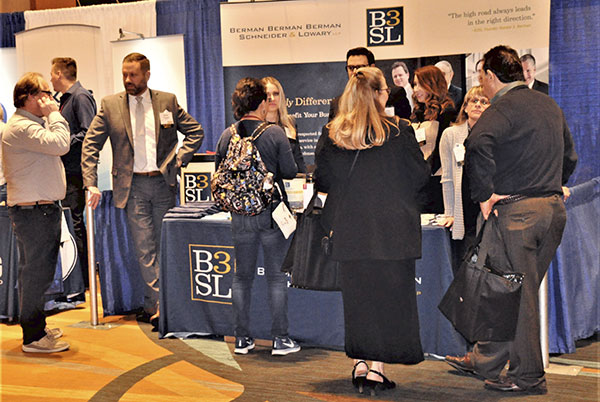 Staffing the B3SL booth was, for Ardye, all about helping him do his job better – specifically, by being more sensitive to costs. "I talked to a lot of adjusters," he says, "and they all talked about costs. That insight alone, from a business perspective, made me realize how important it is to minimize costs to help resolve a claim as quickly and cost-effectively as possible."
The annual CCC gathering is one of various annual events where B3SL makes its presence felt. "Year after year, the CCC gets better and better," adds Stephanie. "The conference committee strives to make it an educational and fun event for all. The format of the CCC allows us to meet members of the industry in an informal setting which is unique to this conference. We intend to come back again next year and in the years to come!"