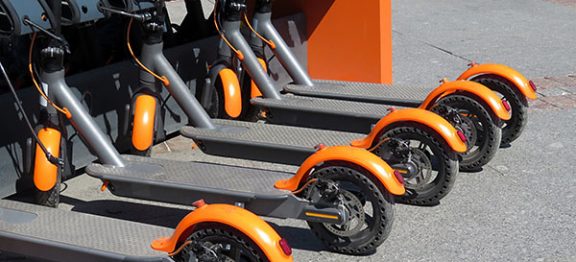 Lisa Martinelli, Esq.
There has been explosive growth in the presence of electric scooters on our public sidewalks, public streets and on private property. The main purveyors of this new and "disruptive" form of transportation are currently Bird and Lime, but smaller companies are in business as well, eager to share a part of the ever-growing trend and business opportunity. As with any new technology, the law tends to lag behind these new developments, and at present, the state of the law governing scooters remains in flux.
California Vehicle Code §407.5(a) defines motorized scooters as "any two-wheeled device that has handlebars, has a floorboard that is designed to be stood upon when riding, and is powered by an electric motor. This device may also have a driver's seat that does not interfere with the ability of the rider to stand and ride and may also be designed to be powered by human propulsion."
And, according to Vehicle Code §21221: "Each person operating a motorized scooter receives all the rights of and is subject to the same provisions applicable to any other driver of a vehicle. These provisions include, but are not limited to, driving under the influence of alcoholic beverages or drugs."
However, despite being subject to the rights and obligations required of drivers of other vehicles on the road, §21224 makes clear that neither registration, insurance, nor license plates are required for the operation of motorized scooters unlike automobiles, trucks, and motorcycles.
Also unlike other motorized vehicles, according to Vehicle Code §21230, scooters may be operated on a trail, bicycle path, or bikeway so long as not prohibited by local ordinance. On the other hand, like other motorized vehicles, they may not be operated on a sidewalk. However, certain provisions of this statute have recently been changed. At the end of the California 2018 legislative session, Governor Jerry Brown signed into law Assembly Bill 2989, which eliminates the requirement that adult riders wear helmets and allows electric scooters to operate on streets with speed limits up to 35 miles per hour (the previous limit was 25 mph). These amendments were apparently an attempt to encourage and to make easier the public's use and access to these scooters.
Despite the foregoing, Vehicle Code §21225 remains on the books. This statute permits local authorities to regulate the registration of electric scooters as well as the operation of and parking of electric scooters on local streets, highways, and pedestrian and bicycle facilities so long as those regulations do not conflict with the provisions of §21224.
Further complicating these issues, some cities are developing regulations and ordinances to exert some control over the presence of scooters in their communities. For example, Sacramento is exploring the enactment of ordinances requiring that scooters be left only at certain parking or docking stations. Cities such as Los Angeles, Santa Monica and Long Beach have recently approved pilot programs that require scooter companies to follow parking laws and share at least some of their data with city officials in exchange for being granted permits to operate in those cities.
Other cities, such as Beverly Hills, have banned electric scooters altogether, but such bans are being challenged in court. On November 1, 2018, in yet another new development, Bird filed a lawsuit in Los Angeles Superior Court against that city seeking to overturn the ban that has led to Beverly Hills impounding over a thousand of the company's scooters. This will likely not be the only such suit as these companies seek to challenge blanket bans in other cities throughout the country. This current litigation is being overseen by Bird's Chief Legal Officer David Estrada who previously oversaw regulatory affairs for Lyft, another company that has challenged government regulation in the rollout of its ridesharing business model. Mr. Estrada contends that city-wide bans are illegal, and the company will look at bans in other cities and may take further action. The Beverly Hills lawsuit looks to be a test case for the company.
Bird's lawsuit alleges that the city of Beverly Hills has impounded more than 1,000 of its scooters and charged Bird $100,000 to retrieve them without telling the company where they were parked or for how long. The suit further claims that Beverly Hills violated open government laws by not providing adequate notice of its intention to consider such a ban and violated California environmental laws by not considering and analyzing the effects of a scooter ban. Electric scooter companies have long touted the promise of and potential for the improvement of air quality and other environmental benefits.
As these technologies, and other similar ones, continue to develop, and as the law adapts (or fails to adequately adapt), the attorneys at Berman, Berman, Berman, Schneider & Lowary LLP can address any questions you have regarding the above, and are uniquely qualified to provide additional insight and guidance.