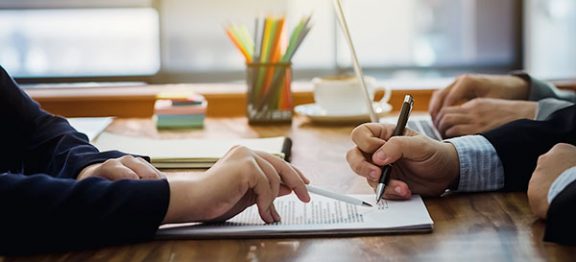 Brianna S. Wilson, Esq.
Of course, as a legal practitioner, it is always good practice to read a statute closely, learn it and follow its language. This lesson was reiterated recently in Mesa RHF Partners, LP v. City of Los Angeles (Ct. App. 2d, March 29, 2019).
California Code of Civil Procedure §664.6 permits parties to stipulate to a court's entry of judgment on the terms of a settlement. It further permits the parties to request that the court retain jurisdiction with respect to any such enforcement. However, both the settlement and the request need to be signed by the parties themselves. (To read the full text of §664.6, click HERE.)
In Mesa RHF Partners, the court affirmed the trial court's ruling denying motions to enforce a settlement agreement under § 664.6 on the basis that the trial court was without jurisdiction to hear the motions. Plaintiffs filed a petition for preemptory writ of mandate and complaint for declaratory and injunctive relief against the City of Los Angeles. Counsel for the Plaintiffs later filed a notice of settlement of the entire case. Plaintiffs also filed a request for dismissal on the Judicial Counsel form CIV 110 which contained the following language: "[T]he Court shall retain jurisdiction to enforce settlement per C.C.P. § 664.6." The deputy clerk entered the dismissal as requested on the same day. Disputes later arose and Plaintiffs moved the court to enforce the settlements. The trial court then heard and denied the motions. The appellate court affirmed, holding that the requests for dismissal were not signed by the parties, or even a single party. Thus, the voluntary dismissal of the action terminated the trial court's jurisdiction.
A request for the trial court to retain jurisdiction under § 664.6 must meet the following requirements:
(1) The request must be made during the pendency of the case, not after the case has been dismissed in its entirety; and
(2) The request must be made by the parties themselves, either in a writing signed by the parties or orally before the court.
The Mesa court noted that the settlement agreements were never attached to the judicial counsel form requesting the dismissal or otherwise transmitted to the trial court before the case was dismissed. The court also noted that § 664.6 could have easily been invoked by filing a stipulation and proposed order either attaching a copy of the settlement agreement and requesting that the trial court retain jurisdiction or a stipulation and proposed order signed by the parties noting the settlement and requesting that the trial court retain jurisdiction. As the court stated: "The process need not be complex."
The attorneys at Berman, Berman, Berman, Schneider & Lowary LLP can address any questions you have regarding the above, and they are uniquely qualified to provide additional insight and guidance. To read the full Mesa opinion, click HERE.